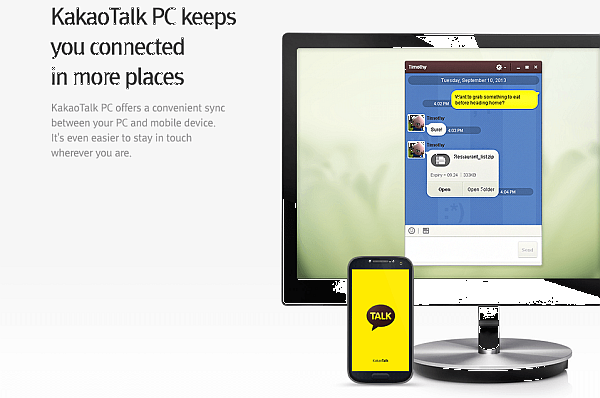 Kakaotalk PC offers a convenient sync between your PC and mobile device. It's even easier to stay in touch wherever you are. Download Kakaotalk for PC today!
Chat one-on-one, or with an unlimited number of friends worldwide: it's all free.
Free Call – Crystal clear calls at no cost Just tap the Free Call button and get talking.
Talk around the clock, all around the world with up to five friends at once — for free! Have fun with your friends using the Talking Tom and Talking Ben voice animators.
Multimedia Messaging – More than texting
Easily send photos, contact info, voice notes or your location.
Schedule & Vote – Everyone's got a say
Planning an event with friends or family? Poll your chatroom on the best time and place.
Keep it fun. Kakao Friends stickers and animated emoticons make chatting anything but boring.
Create your own theme with your favorite images.
With Kakao talk you can send videos, images, documents, audio or compressed files from your PC, Talk discreetly, Log out remotely and Lock your chats.